Do you have a comprehensive maintenance plan for your high pressure steam boilers and related equipment? Are you doing everything you can to ensure maximum efficiency and lifespan of your high pressure steam boilers and related equipment? Read on to see if your maintenance plan is covering all the bases. And if your current plan is falling short, learn what you can do about it. This article explains each of the recommended Preventative Maintenance Intervals for High-Pressure Steam Boilers and Related Equipment.
Estimated reading time: 6 minutes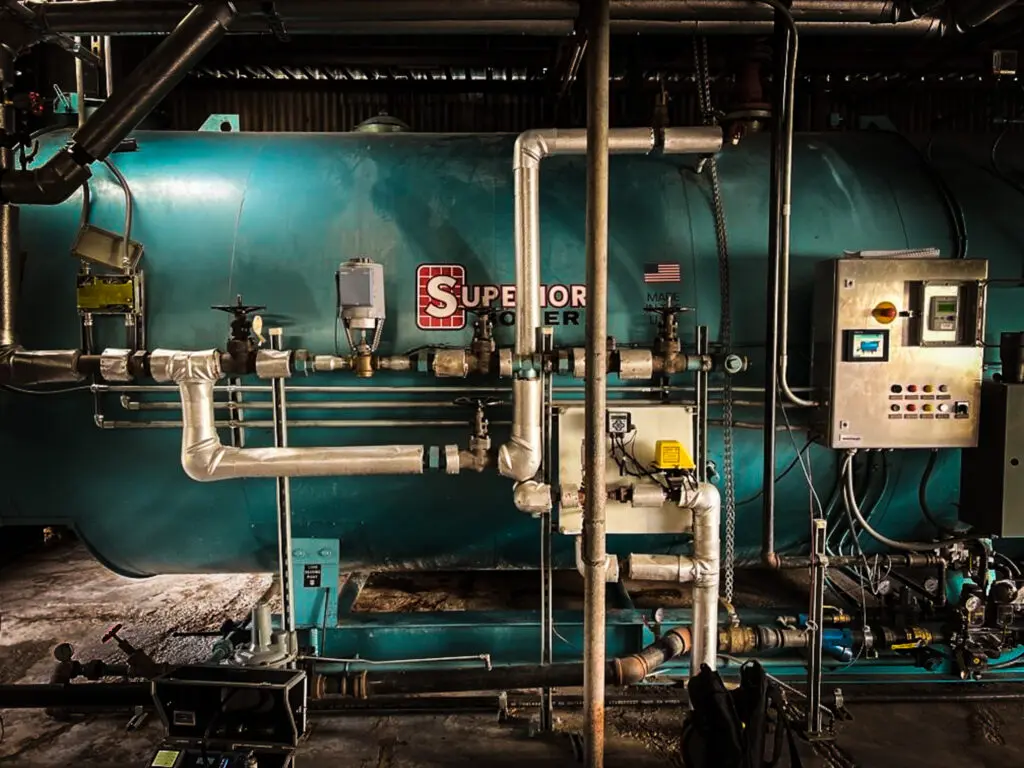 High Pressure Steam Boilers: Comprehensive Annual Preventative Maintenance Plan Break Down
A comprehensive preventative maintenance program includes all steam and hot water heating equipment, including ancillary equipment, as specified, according to your needs. Comprehensive Annual maintenance plans start with monthly visits. By being on site every month, costly problems and downtime can be mitigated, while allowing you to best address inevitable repairs via early detection.

For the purposes of this example we will use the scope corresponding to the sample equipment list shown below*
Sample List of Equipment included:
(2) Steam Boilers
(2) Hot water blow down separators
(1)DA feed water system with VSD Pumps
(1) Surge Tank system with pumps
(2) Sanitary Steam Generators
(2) Steam pressure reducing banks
(5) Hot Water Heaters
Comprehensive Annual Maintenance Plan Scope and Frequency
A typical proposed scope of work for a High Pressure Steam Boiler System is as follows, with the frequency of each scope listed in each header:
Monthly Services (performed every month)
Provide comprehensive PM checklist for each piece of equipment
Test gauges as needed perform pressure /temperature verifications
Inspect combustion throughout firing rate to ensure proper settings
Clean flame detectors and perform pilot turn-down tests
Inspect the following (for all equipment listed):

Blowers
Motors
Manifolds
Valves
Regulators
Tube Bundles
Control Valves
Pressures
Piping
all related systems

Inspect ignition electrodes and ignition cable
Clean flame detectors and perform pilot turn-down tests
Perform operational safety checks of all safety interlocks:

Low Water Safeties
High Pressure Safeties
Temperature Safety Interlocks
Relief Valves
Low/High Gas Safeties

Inspect servo motor linkages/crank arm/jackshaft positioners
Inspect gas, steam, blow down, chemical, water piping for leaks
Inspect all pumps for included equipment
Clean strainers for each pump
Check each pump for proper operation
Check VFDs for proper operation
Inspect water side gaskets and handhole/manhole plates for leaks
Inspect water side gaskets/ handhole/manhole plates for tightness
Inspect fireside doors and gaskets for flue gas leaks
Inspect fireside doors and gaskets for proper tightness
Inspect control panels, J boxes, wiring clean/good connections
Repair piping leaks as needed on all equipment-threaded/flanged
Wipe down boiler shells and burners for good housekeeping
Wipe down heat exchanger shells /jacketing for good housekeeping
Clean dust covers and filters on motors/appliances
Observe total system operations for any problems
Provide reports/recommend/pricing for repairs/corrective action
Quarterly Services (Every 3rd Month) include the following:
Perform all the items listed in the monthly service as well as,
Perform periodic monitoring emissions test protocol as per SCAQMD rule 1146 where combustion is analyzed and data logged while burners are running in the automatic modulating AS FOUND condition
Generate and provide test reports in PDF format for customer records for SCAQMD compliance
Semi Annual Services (every 6th month) include the following:
Perform all scope items from monthly service as well as,
Perform all items from Quarterly service as well as,
Perform combustion analysis & semiannual tune up on each boiler
Analyze combustion and adjust as needed along each fuel curve
Provide printouts for customer records
Annual Services (every 12th month) include the following:
Perform all scope items on Monthly, Quarterly, Semi Annual as well as,
Drain and open waterside of boilers
Flush, drain, and clean watersides
Clean out Low water cutoffs and clean water level probes
Furnish / install new water level gauge glass w/ gaskets on boilers /tanks
Furnish and install new handhole /manhole gaskets, M&M gaskets, O-rings
Open fireside doors and inspect
Brush and vacuum tubes
Clean debris out of Morrison tube
Furnish and install fireside gasket kits on fireside doors, including

Rear door tadpole
Front wind box door tadpole
Inner door tadpole
Burner register gasket
Burner mounting block gasket
Front and rear baffle gaskets
Inner door to burner mount gasket

Perform Hydrostatic pressure test on waterside w/ fireside doors open
Re-seal fireside doors and prepare for operation
Wipe down and clean boiler jacketing for good housekeeping
Clean and polish electrodes on pilot assembly
Furnish and install new high-tension ignition cable on electrode
Test fire burner
Analyze and adjust combustion as per SCAQMD rule 1146
Perform combustion tune up-ensure proper combustion /emissions
Perform running interlock /safety limit check for all limits /circuits
Bring boiler up to operating pressure and leave in operation/standby
Open up DA tank and surge tanks
Flush and clean water side of tanks
Inspect DA trays, spray mechanisms.
Replace waterside gaskets on tanks.
Check suction lines and return lines for internal build up.
Remove tube bundles from heat exchangers
Inspect and clean bundles and vessels
Install new head gaskets and flange gaskets and reseal units
Put units back online
Source Testing (Every 3 years):
Perform annual source test every 3 years.
Final Thoughts
This Comprehensive Maintenance Scope example for High Pressure Steam Boilers and Related Equipment contains visits that are related to air quality and emissions compliance. Depending on your location and specific jurisdictions these scopes may vary. Regardless of your environmental compliance requirements, we recommend monthly, semi-annual and annual services. Any maintenance plan you choose will be specifically tailored to your equipment and your needs. After carefully reviewing the needs of your site and equipment, along with your input, Powerhouse Combustion & Mechanical Corporation will prepare a detailed scope specific to your equipment. Links to various resources and related content are listed below. All of the preventative maintenance scopes are available for download below. You can download each maintenance interval separately or in a single comprehensive document. Please take whatever you need.
Downloadable Resources
Related Links